Universal Music Group is the world leader in music-based entertainment. But it wasn't a straight line to the top. After a near-death experience, UMG navigated massive market and technological changes. Through a series of bold, future focused initiatives, they succeeded in finding a path to growth, and in reinventing the role of a music label in the twenty-first century.
Universal Music Group (UMG) is the world leader in music-based entertainment. With a roster of artists that ranges from the Beatles and Elton John to Taylor Swift and Drake, the company is typically responsible for 8 of the 10 top songs streamed in any given week. In 2021, through the leadership of CEO Sir Lucian Grange, Universal achieved revenues of $9 billion and went public with the most significant IPO the industry has ever seen.
But it wasn't a straight line to the top. After a near-death experience, Universal navigated massive market and technological changes. Through a series of bold, future focused initiatives, UMG leaders succeeded not just in finding a path to growth, but also in reinventing the role of a music label in the twenty-first century. Their experience offers business leaders in any industry insights on how to navigate unforeseen disruption and shape the future through constant reinvention.
Future Focused: UMG
Download their story to save and share.
An Industry in Freefall
In 1999, the music industry was at its peak, bringing in more than $20 billion in revenue in the United States alone. Roughly 95% of that came from the sale of compact discs. Amid that success, few record label executives imagined that a team of Internet hackers would soon fracture the very foundations of how the industry made money and artists got paid.
The rise of Napster and MP3s drove widespread digital piracy, sending CD sales into freefall. Was music just another industry to be disrupted by the dot-com era? Would consumers even need record labels anymore? For its part, UMG found itself struggling to discover the next generation of chart-topping artists. After one particularly bad sales period, Grainge walked into a conference room where his team was waiting, turned off the lights, and said, "This is what it looks like when you don't have any hit records." With its business model in turmoil, observers began to write Universal off as the leader of a dying industry.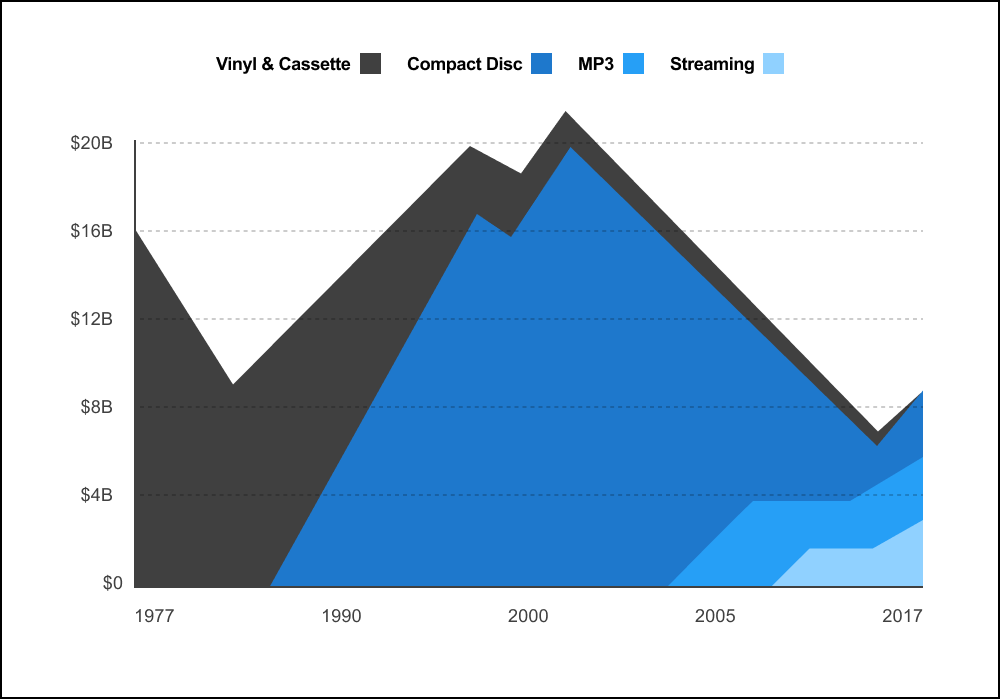 UMG Makes Smart Bets on Resurgence
While everyone else in the industry was focused on what they'd lost, Grainge began making a few smart bets. When Spotify launched in 2006, it created a new value proposition for people to start paying for music again. An early believer in Spotify's potential as a new revenue stream, Grainge moved quickly. UMG was one of the first labels to make its catalog available on the platform.
Grainge followed soon after with another bold move – the acquisition of EMI Music, which added even more major acts to its catalog, including the Beatles, Pink Floyd, Radiohead, Coldplay, and the Beach Boys. UMG now owned one of the most coveted catalogs in the industry. With streaming continuing to grow in popularity, Universal was positioned neck-and-neck with Sony Music Group as the largest revenue producers in the industry.
But what would come next? Despite the rebound, Grainge understood firsthand that change in the music industry was the only constant. UMG was no longer just competing with other record labels. Big tech companies like Apple, Amazon, and Spotify each had more than enough cash and leverage to disrupt the industry. At the same time, smaller players were carving out pieces of the business for themselves.
UMG Focuses on What's Next
Grainge was now focused on how to avoid being blindsided again. UMG decided to partner with Jump Associates to figure it out. While typical strategy firms use past data or current competitive trends to plan for the future, Jump helps companies identify the underlying shifts happening today that will fuel sustainable growth tomorrow. The resulting future focused strategy enabled UMG to identify its unique strengths and purpose (who are we?), prepare for the future (what's going to happen?), and proactively invest ahead of the next seismic shift (what should we do?).
Who Are We? Identifying UMG's Unique Strengths and Purpose
The advent of streaming left many once again wondering whether music labels even needed to exist. Conventional wisdom was that music companies were "middle men." Their value was in distributing music to the masses. Jump helped UMG dispel this myth and get to the soul of what makes it great — its secret sauce — by homing in on its key strength as an invent culture. Unlike many of its peers, UMG's value proposition was not production and distribution. It was invention — its culture centered on discovering new talent and inventing new genres.
With this realization in mind, Jump guided Universal in discovering and articulating its true raison d'être: its purpose beyond making money and producing music. What emerged was a simple, yet powerful statement: To shape culture through the power of artistry. This purpose would serve as a beacon for all organizational decision-making, from strategy development and operations to hiring and retention.
As Will Tanous, EVP and CAO of UMG shared, "The fact that our business took approximately a 45% decline from its peak, most industries don't survive that. But the number one thing that sustained us was music's enduring importance culturally. The question was, how do you operationalize that? … Jump helped us understand and unpack that, then organize it in a way that was scalable, could be articulated, and more importantly, could empower the next generation of leaders to know what they are signing up for when they come to UMG."
What's Going to Happen? Preparing for the Future
Keenly aware that disruption can happen at any time, the UMG leadership team began to prepare by actively thinking about the future, considering trends, and imagining multiple scenarios.
At this stage of planning, every possibility was on the table: What if Nike created its own music brand? Will successful artists even need music labels? What if music is totally created by artificial intelligence, and consumers don't need artists anymore? Playing out different scenarios allows leaders to see things — sometimes huge things — they might otherwise miss. Certain ideas might seem more plausible than others. But the worst mistake a company can make is ignoring any of them.
Over several months, Jumpsters and the team at UMG identified the critical uncertainties that could affect their industry and brought them to life with immersive scenarios. The key for UMG was not to pick one scenario, but to envision all of them and identify ways they could thrive in any potential future. UMG leaders walked away with clear alignment on the major shifts – like going from audio only to audio visual – that would most affect the company's future trajectory. Those shifts became the basis for a set of strategic actions.
What Should We Do? Proactively Preparing for What's Next
For an invent culture like Universal, translating scenarios into strategy is not about setting a single course of action. Rather, it's about embracing a diversity of approaches, giving people the freedom to come up with new ideas, seeding investments, and then testing and learning in the marketplace.
UMG began embracing change with ingenuity and enthusiasm through four strategic actions designed to grow revenue and shareholder value.
UMG's Future Focused Actions
Identify the need to marry the company's intuition for what leads to success, with useful data that could help predict it. Investments in data and analytics are helping UMG bring insight up and down the value chain.
Continued to embrace all types of partnerships and delivery platforms, from licensing deals with gaming and fitness providers like Peloton to exploring opportunities with next-generation audio devices and connected cars.
Began actively investing in strategic locations across the world to capitalize on emerging culture trends and scale them rapidly, helping genres like reggaeton and K-pop explode across borders. Through their Global Accelerator Hub, they've also invested in over 120 startups that are changing the game.
Focused on helping artists connected with fans on a visceral level, UMG inked a multi-year licensing agreement with Spotify in 2020 for more engaging experiences, began producing documentaries on its top artists, and expanded its emerging merchandising business, Bravado.
Record-Setting Results — and an Epic IPO — Benefit Artists, Shareholders, and Fans.
By understanding its culture and purpose and developing a clear point-of-view on where the industry was headed, UMG succeeded in finding growth amid disruption and changing the narrative about their company.
From 2018 to 2020, UMG's future focused strategy grew revenue by 22% to $8.6 billion, doubling the growth rates of rival labels Sony and Warner. In 2020, it also snagged nine of the Top 10 albums on the Billboard 200 — the only company to achieve that mark in the Chart's 64-year history.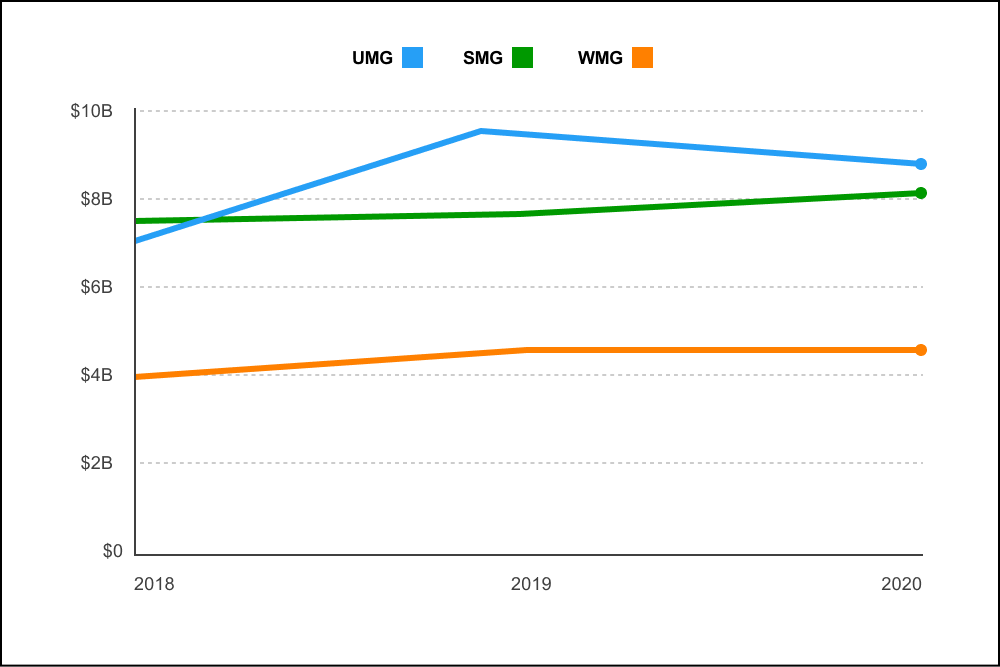 On September 21, 2021, Universal's IPO debuted as the largest in the history of the music business, signaling not just how far it had come, but also its leadership's ability to innovate with a clear future vision.
Beyond the Music: What We Can Learn from UMG's Experience
When everyone else was worried about annual sales, UMG boldly and consistently invested in a future focused strategy. In a landscape characterized by unexpected change, UMG's ongoing journey reminds us to be future focused or risk getting lost in the disruption:
Find and own your secret sauce.
The key to developing a future focused strategy that works for you is to start with what makes you great. The success of UMG's strategic initiatives, and ultimate transformation, stemmed from a broader definition of its business and purpose.
Envision multiple futures.
Envision how your organization will thrive in the future, regardless of what comes to pass. UMG leaders identified a variety of future scenarios that could play out. Then they developed a clear point of view both on how the industry would be reimagined and their role within it.
Adopt a test-and-learn mentality.
By embracing a test-and-learn philosophy, UMG was able to navigate unprecedented disruptions. But that was only part of the equation. By continuing to explore, test, and innovate, they are reshaping fans' relationship with music as part of their future focused transformation.