During times of rapid change, a collective look back will turbocharge your team's agility and resilience, enabling it to thrive through whatever's next.
Top athletes fundamentally understand something we should all know: the importance of review and reflection. After all, at that level, if they can't adapt quickly enough to a new opponent or arena, they lose.
Kobe Bryant, the legendary LA Lakers shooting guard, watched game film obsessively, to glean intelligence and gain a competitive advantage. Reflecting on the game's dynamics enabled the 18-time all-star to be a more skilled, agile, and resilient competitor. Bryant didn't just train with a sense of urgency. He was a PhD-level student of the game.
Bryant knew intuitively what neuroscientists have determined in the lab: that reflection and integration are essential elements of human cognition. By consciously reflecting, we forge new connections among our neurons and create new meaning.
In other words, we learn and grow.

And we're all going to need to learn and grow faster than ever if we want to successfully navigate through uncertainty.
Jump Forward Offsite
Download here
Take a page out of Bryant's playbook, particularly during periods of rapid change.
Covid-19 tipped off economic, cultural, and social shocks that forced or accelerated change across society and business. Companies were compelled to navigate supply chain logjams, labor shortages, health-related protocols, and, even, protests. Entire organizations adapted to new ways of thinking and working, from adopting hybrid and remote work to rerouting production and distribution networks on the fly.
But let's face it: turmoil is not a relic of the past. Uncertainty appears determined to stick around. Consider some of the known unknowns at the time of writing, in late 2022: Will the war in Ukraine end soon? What's in store for the seemingly inevitable recession? Will labor challenges persist? And what about the "unknown-unknowns" beyond the horizon? After all, who would have predicted the pandemic six months before it changed the world? 
Upheaval is the new normal. The best companies will use it to get stronger. 
To strain our metaphor somewhat, in navigating through the pandemic, we played the wildest hoops game of all time, only to learn that the whole season will be equally zany. What are we to do? Relax and wait for whatever's next?
Kobe would be studying that video all night.
Like basketball, business is a game of sorts, an activity that demands reflection, learning, and integration, all of which contribute to agility and resilience. If we don't take the time after a period of change, we risk losing all the hard-won lessons.
Hold a transformational offsite to integrate learning and drive change.
We're not, of course, suggesting that you watch endless Zoom call reruns. Instead, consider organizing a transformational offsite. We've seen our clients realize tremendous value by convening their teams for structured offsites to reflect on what has occurred. The potential lessons are rich. Companies routinely spend seven to ten figures to transform their culture and operations. That's not sustainable when the world is changing at warp speed. Many organizations have managed to pivot dramatically in the last two years with a far more modest outlay. 
Real transformation can only occur if teams take the time to reflect, document what happened, and isolate what it means to their organization in the future.  It's not enough to break down what each team member learned individually. That won't lead to change. The key is to enable the group to see things through the lens of leadership, culture, and strategy. Each of these is an important lever, and each matter if you want your team to change behavior and adapt to what's next.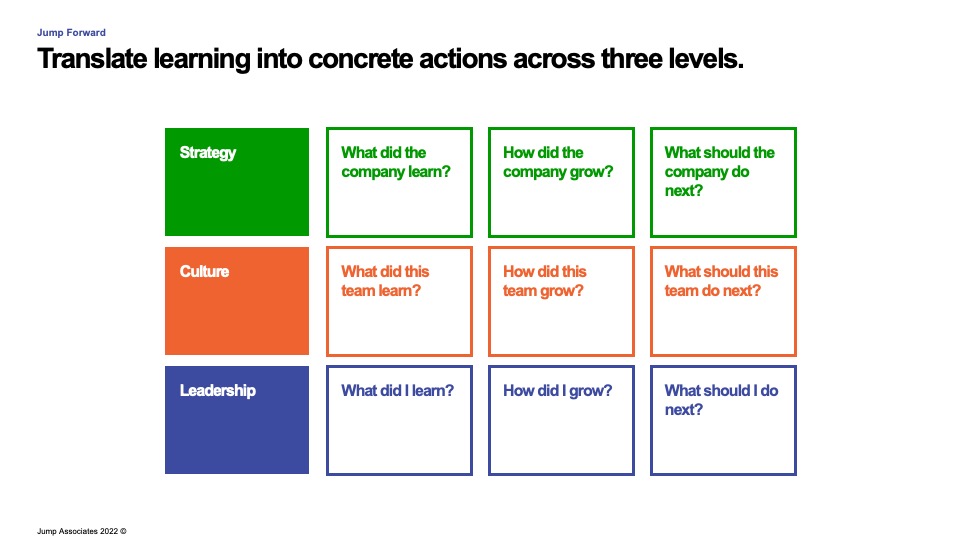 5 Tips for Designing Great Experiences:
Keep the attendee list tight. Whether it's a leadership or functional team, these sessions work best for existing groups; the ones that went through the experience together. 
Set the tone before you start. Prior to the offsite, ask attendees to do some reflection on their own. This will enable them to relive events and get them into the right state of mind. Having seen this with many companies, the difference between a great session and a not-so-good one is how people show up. The more vulnerable, the better. 
Challenge each other. While there is a time and place for fun teambuilding exercises, a transformational offsite is designed first and foremost to push everyone's thinking. 
Use an objective, experienced facilitator. The quality of any meeting depends on the intermediary. An individual can moderate a session or participate in one, but it's nearly impossible to do both. The right facilitator knows how to bring out different voices, push the team's thinking, and ensure clear alignment.
Create enough time to discuss follow-up actions. Frequently, teams spend so much time together talking about what they learned and how they grew that they don't allocate sufficient time to agree on what comes next. Don't let that happen.
Pause today to run fast tomorrow.
Just because leaders were able to facilitate rapid change doesn't mean the changes or lessons will stick. If leaders don't act now to build the organizational muscle memory and internalize the revelations of the last crisis, we all risk squandering a good portion of their gains and not being ready for the next upheaval.